I have been fortunate to spend much of my life fishing, but it wasn't until college that I learned what would eventually become my vocation: Fly Fishing. A graduate from Ferris State University with degrees in Facility Management, Architecture and Business, I now call the moving water and a boat my office. I consider myself the interface between you (the customer) and the fish.
I have been teaching fly casting since 1997 and have been a certified Federation of Fly Fishers (FFF) Casting Instructor almost as long. Having rowed a drift boat for the same amount of time, my experience and understanding of Michigan's fisheries helped my transition into guiding as an occupation in 2002.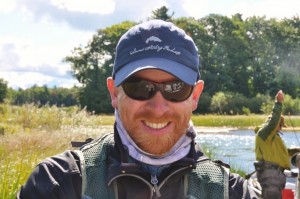 Still learning each day, and having fun while doing it, keeps me outdoors and on the rivers, lakes or bays near Traverse City each day. My approach to guiding is to exceed your expectations and make the trip a positive experience. I get to be on the water all the time, you typically don't, so let's plan a trip for you and your needs.
I've been tying flies for as long as I have been fishing, and it's how I spend my days off the water. I tie for myself, my clients, and also design flies for Rainy's, a wholesale distributor.
And yes, when I don't have a trip you can often find me on some of our local water fishing for fun — or as I like to call it, "Research and Development."
Licensed and Permitted by the State of Michigan      •      USCG Licensed Master Captain
Michigan Chauffeur Drivers License      •      Fully Insured Guide Service