It is no secret that northern Michigan's fly fishing is one of a kind when you consider the variety of species in our local waters. The first popular season of the year is Spring Steelhead from mid-March through April, and Trout fishing in June with its hatches of big bugs aren't missed by many. But in between is the month of May – a great month to fly fish Michigan – filled with a number of choices for anglers of all skill levels at a productive and less populated time.
Below is a brief summary of the various species, time of month and common approaches we take to fishing through May.
Steelhead
Most years, the steelhead on rivers like the Manistee below Tippy Dam continue to migrate in early May although, typically not in the numbers found in April. Considering how few anglers are out there and with water and air temps much warmer, this can be an ideal time to target drop-back and up-stream bound steelhead with nymphs, swung flies and streamers.  Just because the crowds are gone doesn't mean the fish are.
More on Swinging for Steelhead
Steelhead & Trout
Waters like the lower Manistee containing both steelhead and trout, can offer a great one-two approach. That is, focus on steelhead until the sun gets high, then target trout. Or spend the day targeting trout with nymphs and streamers and hold on tight should you hook onto a steelhead in the process.  Streamer fishing is a good way to cover lots of water and focus on predatory trout and the drop-back steelhead looking to eat before heading back to the lake.  During the second half of the month steelhead are usually gone and anglers focus on trout with all types of presentations – nymphs, streamers, wet flies/soft hackles and dries.  Since trout are stocked in this water, it can be an ideal place for a beginner or kid to learn while making their trout fishing experience a positive one.
Trout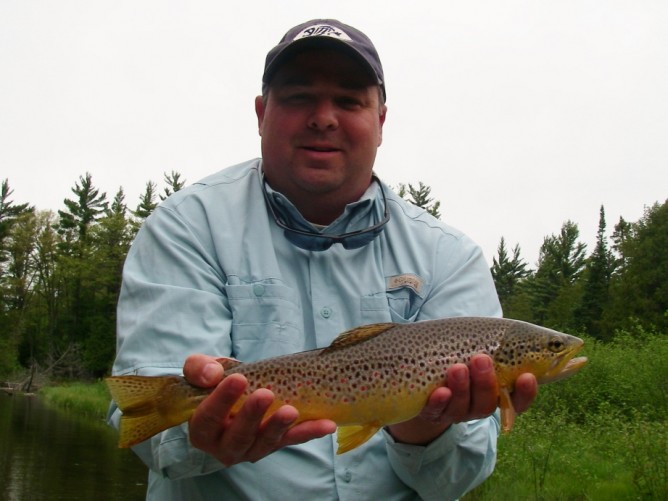 Depending on the length and severity of winter, the first part of May usually offers good hatches of mayflies and caddis and build throughout the month on local rivers making for great dry fly fishing. The upper Manistee and AuSable are known for their dry fly fishing for brown, rainbow and brook trout. Watching them eat your hendrickson or mother's day caddis in daylight is what it is all about for a lot of us anglers. Water conditions can vary from year to year – it can be clear or it can be stained, but regardless, the fish are there and usually looking to eat. Hendricksons to sulphurs and lots in between, don't miss out on hatching bugs and rising fish.
A well-rounded angler who can not only cast a dry fly when an emergence takes place but can fish below the surface with a sink-tip fly line and a streamer can really maximize May's potential.  May is – in my opinion – the best month to focus on the big trout with big flies. Since the trout haven't been pressured, this is a good time to feed them a streamer pattern as they are not only hungry but also territorial.
On those first warm days of spring having your favorite dry fly rod strung-up with a dry in the boat as you cover the water with a streamer is great approach. May trout fishing often occurs during "Bankers Hours" – from late morning until early evening – which further appeals to anglers.
Additional Articles:
Tips for Better Streamer Presentations                                      Dry Fly Fishing Do's
Panfish/Bluegills
As the sun gets even higher, the days longer and warmer, so do the waters on the many local ponds and lakes.  Mid-month, panfish (Bluegill) typically leave the depths and come in shallow to spawn providing a lot of fun for fly anglers. Ever catch a bluegill the size of your hand on a 3 or 4 wt. rod? You won't forget it when you do. And you won't forget it if a big bass or pike eats your bluegill as you bring it in. Rarely will you land both, but you will have a great fish story to tell!
Like most fishing – a versatile angler who can fish for bluegill on top with dries and subsurface with nymphs and small streamers will be the productive angler. Being visual, fishing on top is always fun but you can create your own luck and being able to swim a small nymph slowly near structure  increases your luck as this usually gets you that larger fish. Big bluegills are smart and are trophies in their own right making them not only fun to target, but worthy of bragging about.
More on Fly Fishing for Bluegill/Panfish
Carp and Smallmouth Bass
May's winds blow the warm surface water of Grand Traverse Bay into the shallows bringing the first of the carp and smallmouth into the flats to eat or sometimes just sun themselves. With carp steadily becoming more popular with fly fishers, the angler who finds the pre-spawn fish before others does well – especially because they aren't preoccupied with spawning. It can be tricky, as water temps are influenced by wind direction, sunlight and night-time temperatures, but knowing when and where to go will make the difference between finding fish and not. Being able to cast and manipulate a fly and watch them eat brings a saltwater-like fishing experience closer to home.
More on fly fishing for Carp