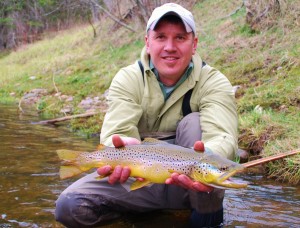 The days of casting a large streamer to the bank and stripping it back aggressively with fish attacking in territorial response are diminishing.  Sure, fish still move into the shallows of low light and stained water, and even play our game some days. But years of angler conditioning has some of the larger fish a little smarter, or laying a little deeper, and often in more structure.
Always adaptive, we now fish with heavier lines and have developed even larger flies — heavily weighted and often accessorized like a Dallas Trophy Wife. While effective, this extension of trophy streamer fishing often goes beyond some anglers' abilities and/or preference to fish. Considering there are more days when conditions include clear water and plenty of daylight, it pays to have an alternative approach — "Seductive Streamer Fishing."
Tournament Bass Fishing and Trout Fly Fishers
There seems to be a dichotomy between the fly fisher and bass angler, but yet, the two have so much in common. The fly angler can learn a lot from the guys in the glitter boats, since they often have more at stake when fishing in large-purse tournaments and gathering sponsorships. They simply can't afford not to catch fish.
If you have watched fishing shows on TV you have seen where large, flashy spinner baits (think big streamers) catch aggressive and often big fish. But if you have watched enough programs, specifically tournament coverage, it's the plastic bait presentation (worms, tubes, grubs,  salamanders, etc.) that seems to be the bread-winner time and time again. Why? When conditions change or when fishing pressured water, having a kinder, gentler presentation is effective, especially when fish aren't aggressively feeding.
How often do you get to the river after a cold-front moves in, when an east wind is present, water temperatures have dropped, or  when "sterile ditch syndrome"  sets in — when the fish are simply in an ornery mood, and you aren't even sure there are any fish? Adapt your streamer presentation to get fish to eat despite these conditions.
Seductive  Presentation
If you have ever watched a runway model move down the platform, you know they aren't running, but rather walking and "working-it," often seductively to garner attention and a desired reaction. The angler's finesse of a twitch, the drop of the presentation, the erratic flutter and motion of plastics tends to seduce fish to eat, even when not in a feeding mood. Why?  Because it looks natural and is easy to pounce on without having to chase it.
This is where seductively presenting a streamer, slowly, thoroughly and with a lot of movement and action in and around structure or other likely holding water brings fish to the net – even when the heavy-handed approach of big flies can comes up short.
Presentation and Fly Tips For Seductive Streamer Fishing
Use lighter Line. Presenting these flies on lighter, shorter sink-tips helps keep they fly from going immediately to the bottom and allows you to dance, twitch and otherwise flutter the fly. Readjust and fish specific portions of the water rather than trying to cover as much water as possible.
Get jiggy with it.  When fishing shallower and/or log-infested water, I often fish a floating line with a bead-headed fly and longer leader (9-plus ft.). When accompanied by thoughtful mending of the line, this keeps the presentation vertical — moving up and down the water column (like a jig), as opposed to streaking across the river (fast moving spinner bait). The floating line option is also a great approach for anglers wading and switching back and forth between dry flies and streamers. Just remember to tie your streamer on with a little stronger tippet as the structure and size of the fish typically demand it.
Work it. Often the flies fished on lighter sink-tips and floating lines are visible, so you can watch your fly and manipulate it by mends, rod-hops and short-strips. Work the fly as needed and pay attention to how the fish react. When you find something that works, continue that approach, and if a fish is following the fly but not eating, try small variances in your retrieve/strip to elicit the strike. This isn't much different from the saltwater angler presenting to fish on the flats — "check" often results in "check-mate," but it takes two to play that game. You want to be the one with the upper hand.
Don't forget the middle. Depth and structure can be found in the center of the river, so be sure to swim a fly broadside and dance it through these overlooked  areas. Not only does the center of the river hold fish, but most anglers are programmed to only cast to the banks, leaving many of these fish unpressured and uneducated.
Go Slow in cold water. As water temperatures cool in the fall and remain cold throughout winter, fish are often lethargic and almost hibernating state. The slow moving fly that stays in their zone longer and looks inviting tends to be more successful than the quickly stripped streamer.  If you are going to serve them up something big to eat, make it easy for them.
Fish natural to flashy. Flies for this type of streamer fishing can vary from realistic patterns of a natural food sources, to suggestive patterns of multiple food sources, or to something bright and attractive that aggravates the fish. My go-to strategy is usually to imitate the natural food source first. Then, if not overly successful, go to something a little more provocative. lethargic and almost hibernating state. The slow moving fly that stays in their zone longer and looks inviting tends to be more successful than the quickly stripped streamer.  If you are going to serve them up something big to eat, make it easy for them.
Use flies with lots of action. Using a fly that incorporates materials with inherit action and motion is key.  Rubber legs, marabou, flashabou, soft hackle, bunny-bou strips, schlappen, wispy synthetics and countless other appropriate materials make fly tying limitless in design possibilities. Consider taking your favorite big-ass trophy streamer and down-sizing it. A well-stocked fly shop should offer non-tiers a variety of streamers to fit your needs.
Use weight.  Seek out the weighted patterns that incorporate cones, beads or dumbbell eyes. The jigging motion created by weight combined with the current's force on action-packed materials is deadly. Having a few flies with tungsten weights incorporated can really help to get a fly down if necessary.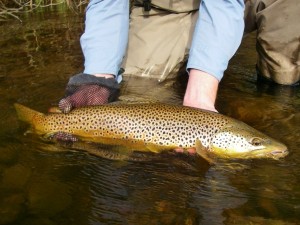 Add worm weights.  Take a page out of the bass fisherman's playbook – add seductive lift and drop motion to the retrieve by using sinkers designed for fishing plastics. Slide on the line and let the sinker either rest above the fly (put a small plastic bead between it and the knot), or peg it to the line with a toothpick above the fly for even more action. The larger the weight, the more difficult the casting — seek the lighter 1/32 and 1/16 oz sizes.
Lighten up. You can still use the larger rods associated with streamer fishing, but the smaller flies don't require power. The need to be more responsive and deliberate with the presentation often is easier with a lighter rod – 5 and 6 weights are ideal.
Change it up. Some days big streamers fished on heavy lines is really effective, but suddenly it can stop working. After your rotation of favorite patterns fails to turn the good fishing back on, adjust your tackle and implement the seductive streamer technique. You might find the fish are still on the bite, just not as aggressive as they were earlier.
Fish stillwater. Use this approach when fishing stillwater – for more than just trout or even bass. Fish are fish, and the versatile, adaptive and observant angler is usually successful. Adding significant action near structure can result in takes for the same reason the plastics angler catches bass  — it stays close and looks tempting.
With streamer fishing really becoming more commonplace the past 10 years, it seems the fish have taken note of those big flies and have become less participatory. When faced with clear conditions and/or cold water, alter your approach. Adjust your tackle and target specific waters to work fish out of structure when they aren't aggressively feeding. Slowly and seductively moving your fly in likely fish holding water can mean the difference between possibly catching an aggressive fish or just catching fish.