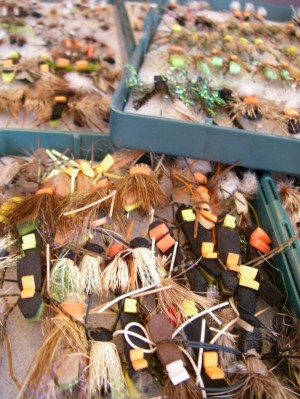 Some of Michigan's most common and important examples of this classification of bugs, a.k.a terrestrials, include grasshoppers, beetles, ants, cicadas and crickets. Anglers headed to the river in the summer months should not only have these flies in their box to represent them, but also should have an understanding of how best to fish them.
Terrestrials are at home on dry land as they hop, fly and crawl on vegetation along the surrounding river banks in grasses and overhanging trees before sometimes finding themselves unexpectedly falling to the water.
Since they don't swim, they often move erratically as they try to make it back to land, attracting attention and being vulnerable to fish that welcome them with open mouths. It is this insect behavior that we as trout anglers need to observe in order to capitalize.
Bugs, Behavior, and Best Presentation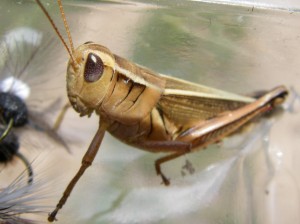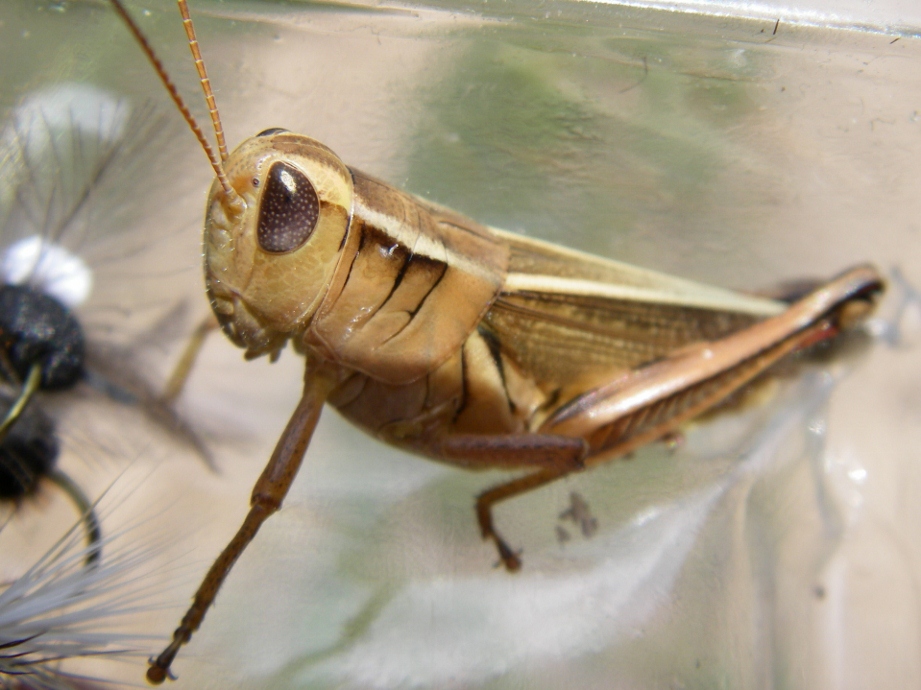 Some bugs plop, others skitter and some chug across the water – we want to imitate the naturals. If we don't have natural bugs to observe, a good way to identify what works is to experiment with actions and patterns on the water. My experience has been that preferences last for a few days if not weeks depending on what the natural bug is, which can really differ from the match-the-hatch approach we anglers often experience where stages of bugs over a time frame of minuets can mean the difference between catching and not.
Grasshoppers

With their large, kicking legs these good-sized bugs can not only move some water and bring attention to themselves, but often move across the water faster than the other terrestrials — that is if they don't drown. Use hoppers on sections of water that have lots of grassy fields along the banks. Takes on hoppers can either be explosive or often very subtle by even the largest of fish as they suck them in from underneath as your fly disappears. Hit the bank and plop, twitch and dead-drift them before repeating the cycle. If that doesn't work, try skittering them with a pause every once in a while.
Ants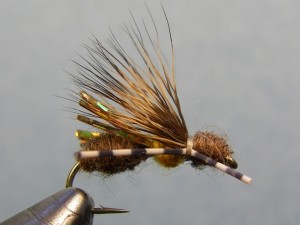 Ants and Flying Ants can land anywhere on the water and usually crawl frantically with their tiny legs but aren't as noticed because of their size and because they don't move across much water. If you are fortunate enough to experience a flying ant hatch you will have some of the best fishing you can imagine. Always have some flying ants with you just in case – you won't regret it. Sunken ant patterns or ants fished wet and under the surface below another fly can be real effective since the small bugs easily drown. Fish them in water likely to hold fish which isn't too deep, since the bugs aren't large enough to bring fish up from very deep water.
Crickets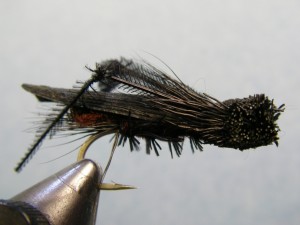 No stranger to the trout angler, live crickets and grasshoppers have been a staple of bait fishing anglers for over a century. After hearing the chirping crickets at night, take note and fish them during the day. You often won't see them on the water much, but they sometimes get blown in. They are best fished after a good rainfall as they often get washed into the river by the run-off. Fish these dead drift with twitches in seams along banks and over transitional holding water.
Beetles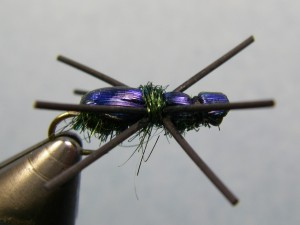 The unsung heroes of terrestrial fishing – beetles. I think it's most likely because they are small, difficult to see and don't really move on the water much. But don't let these attributes keep you from being prepared. When beetles are prolific or when fish are laid up in shallow water, they are more than anxious to eat them. Fish smaller beetles as a dropper behind an easier to see pattern serving as a strike indicator. Fish them dead-drift in seams and tail outs for best success.
Cicada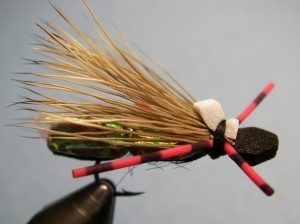 These pesky, loud, and obnoxious sounding bugs that buzz and click throughout the summer on those warm days – you've heard them. While we don't have a huge population of them in the area (which is good since they are so annoying) they do end up on the water from time to time and offer a reasonably good size meal for fish. Present cicada patterns dead-drift with some skittering and twitches to bring attention to them. Fish these chunky bugs in sections of rivers that have a lot of nearby and/or overhanging trees.
Learn how to tie the Tar Baby here »
The Attractor Terrestrial

We as anglers aren't necessarily sure why fish eat them, but large-profile, non-specific imitating patterns like Chernobyl Ants, Skunks, Fuzzy Wuzzies, Club Sandwiches, etc. do a good job of bringing fish up top. It could be that they suggest terrestrials or they actually, from a fish's perspective, look like a particular terrestrial we haven't realized. Regardless, these patterns are not only effective but are also fun to fish. "Foam and Rubber" is what the majority of the bodies are made of, so they float well and can serve as an indicator for dropper flies like nymphs or smaller, hard to see dry flies like small ants and beetles. Fish them in all manners described above and know that they can really be effective at bringing fish out of the deeper runs, since their profile is easy to see and their size is rewarding.
When and Where

Terrestrial activity of interest to anglers here in the northern Michigan begins in mid-May and heats up in productivity as the weather itself heats up. After the gold rush of mayfly hatches we experience in the late spring and early summer, terrestrials should become a significant part of your trout fishing approach and strategy. July and August tends to be the peak months however I have experienced good terrestrial fishing extending well through September and sometimes into October before the cold weather and frost put these bugs away for the year.
Most terrestrial behavior increases mid-day as air temperatures rise and dew-fall burns off. Depending on the river and the section you are fishing, mid-day can be tough as water levels are usually very low and the lack of rain in the summer months keeps water clear; once the sun is high and bright, the fish have gone to deep structure where your flies will often pass unnoticed. If fishing tree-shaded water you should have better success mid-day than the open sections here in Michigan. Always look for that dark, mid-deep, shaded water to hold fish – especially inside bends that have secondary currents running along them often with undercut banks. If you're fishing the mayfly Trico hatch on early summer mornings, try fishing terrestrials before or after the hatch while fish are still out in feeding lies before the sun chases them away.
With months of evening fishing taking place before prime terrestrial fishing begins, it feels good to get an early start on the day and fish in broad daylight. On the hot days, the fishing can be rewarding simply by wet wading and staying cool, but when the fish are playing along and falling victim to your well-fished terrestrial pattern, the day just got better. Observe, experiment and choose the right fly for the right conditions and enjoy what can be the most underappreciated fishing of the year here in Michigan.