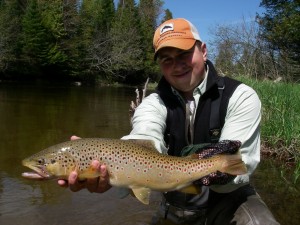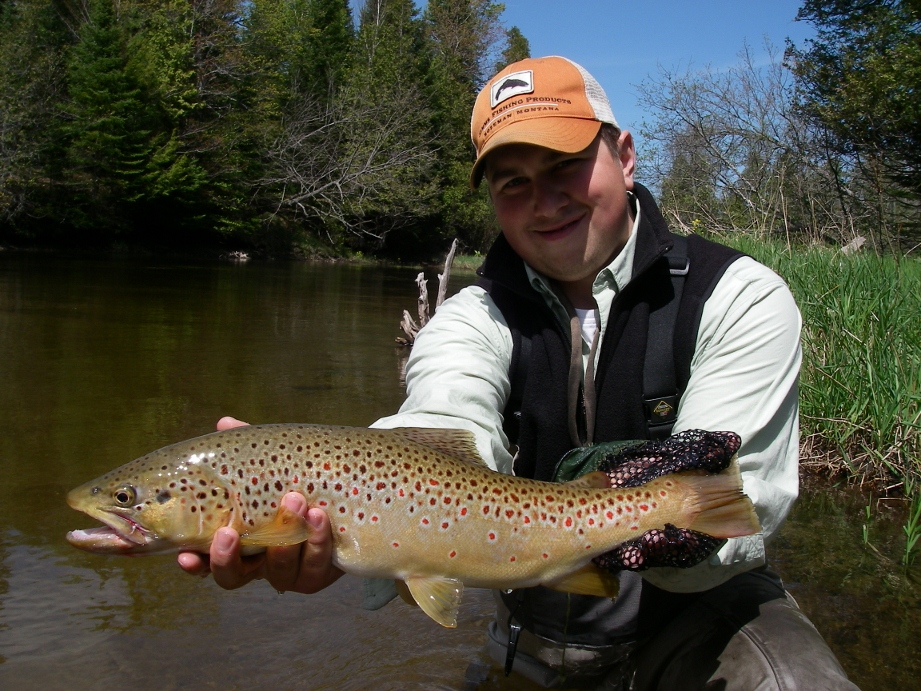 Streamer fishing has really evolved over the past 15 years, from fishing small patterns like Mickey Finns and Grey Ghosts fished swung and quickly stripped back on floating lines, to flies commonly ranging from 4-6 inches long, often with lots of bulk, a large profile, shimmer and flash, weight and other accessories and fished on a heavy sink-tips. By doing so, we take big flies to big fish and break-up those periods where surface action is nil but we still want success on the water.
This is not the "gentleman's" way to present a fly. Often, this presentation triggers a pure territorial response, getting the fish to eat; other times, they just want to eat something big and go back under a log for a while. That's how they get bigger. This isn't necessarily a new style of fishing for many, for others it is. Regardless of your experience or the species you cast a streamer to (trout, salmon, steelhead, smallmouth bass), the following tips are suggestions for improving your streamer fishing and scoring big.
Mix it up

Fish can be particular from one day to the other and even throughout the day – not so much to fly sizes, but color and movement. Anyone who has been fishing on "the day" knows that streamer fishing can be some of the most exhilarating and successful ways to catch big fish. But it can turn on and off quickly and/or the fish can have an attitude change and decide something else looks good. Sunlight can make a fly look different, so if the light changes, consider how your once-hot fly might appear in the new conditions and change it if need to be.
Mix up not only your patterns with respect to their colors, size, profile, action, amount of weight, but also how you fish them: faster, slower, deeper, jig-like, lots of pause/suspension, quickly, jerkily; in the heavy structure, in the middle of the river, perhaps the inside seams with little structure. Mix it up, look for a behavioral pattern and always assess. The more you fish the more you will develop your favorite patterns for certain conditions. Let your gut dictate what you should try, but don't be stubborn and stick with something that isn't working.
Don't Recast

If your cast fails to hit the target and falls a little short, rather than pick it up and attempt to get that extra 2 feet of length, let it go and fish it – that is, unless it's going right into a snag or something else ominous. Here's why: If you pull that fly out, you may have pulled out of the water just as a fish was about to smash it. Further, if you recast it will you really hit the target the second time? Lastly, when you pull the fly out to recast, you often spook fish and alert them that something isn't right so your second cast comes through disturbed water with an educated fish in it. Make your cast and fish it out.

Feel The Fish

Set the hook when you feel the fish, not see the fish eat. It has happened too many times – a brown trout into the mid-20s or a 15-pound salmon comes up to eat, mouth opens and the fly rips through the water thanks to a premature hook set. Strike one – you're out. Keep that fly moving, and when you feel the tug, set the hook as hard as the equipment will allow you to. If you do everything right, the hook fails to stick and the fly comes up and out of the water, cast it right back in there immediately. The fish is typically committed and is now pissed that they ate but didn't get it in their mouth and are looking around for the "escapee." I have witnessed fish chasing and eating a fly a number of times before it all connects and the fish is on. Really, cast it in their again and move the fly.
Present Your Fly, Not Your Line & Leader

If fishing with a streamer, you want your fly to be what the fish see, not your line and/or leader. Because we often use such short, stout leaders to dark color sink-tips, we can do things incorrectly with ease. Since fish mostly look upstream, cast your fly at an angle to the river that will keep your fly moving slightly across the current and broadside, exposing the fly to more fishy looking water. With streamer fishing being a predator/prey scenario, keep in mind that the prey (the fly) will use the current of the river flow to escape the predator (fish) rather than move upstream and fight the current to escape the danger. When the cast gets swept downstream and turns to go upstream, strip it back upstream once or twice, but not in completely – it's time to recast.
When we cast the correct angle, we need to be sure we keep the fly moving the right direction but not too swiftly where the fly is streaking across and downstream too fast and without enticing action. To help with this, mending goes a long way to slow the speed and present more of the fly to good looking structure and hopefully fish, too.
Multi-Task
You have two eyes – use them both. Keep one eye on your fly and your line and how it is moving through the water, adding mends, looking for response from fish and avoiding snags. With the second eye, look downstream for your next target. Rather than cast out immediately after you strip your fly back in, it might be prudent to move a little downstream before casting so the fly gets as close to the structure as possible.
Choose Your Leader

Use a short leader, not a long one with sink-tips. The sinking section of the line is used to penetrate the water column and present the fly at the depth we desire. A short leader keeps the fly close to the sinking line, whereas a long leader can end up riding higher in the column due in part to the current forces and any buoyancy characteristics of the fly. I prefer a leader no longer than 5 ft. in length.
Use a long leader, not a short one with floating line (7 to 9 feet). We do this for the opposite reason as above. If we want the fly to sink and get deep, we need enough leader that will allow separation of fly from floating line. Make sure the fly has some weight to it when using a floating line, unless you aren't looking to fish it deep.



Keep It Moving

As we strip that fly through the water, yet again, sometimes that big fish appears from nowhere tracking the fly. Too often anglers stop moving the fly to let the fish "catch-up." Don't – keep it moving! By stopping, it's typically a game-over situation as the fish recognizes something is wrong and goes back to where he came from – why would something fleeing for its life just give up? Anglers' shoulders slump, jaw opens and some profanity slips out.
Keep the fly moving — maybe slower or more erratically to entice the bite, but keep it moving. It's not a guarantee that the fish will eat but you should know there are no guarantees in the sport just experience to learn from. As such, sometimes smallmouth bass like the fly stopped when they follow it. Try it – if it doesn't work after a few attempts of pausing it, go back to keeping it moving.