A great aspect of fly fishing in northwest Michigan is the variety of fish we have to pursue – we aren't limited to just one or two species or the methods we fly fish for them. While you may have fished one or more species already, there are variations in how we can chase your preferred species. Below you will find a short synopsis of the less popular species and/or ways to catch them. Often as anglers we are looking to mix things up, experience something new, or add a new species to our bucket list – here are a few that you might consider adding to your angling plans:
Carp on the Fly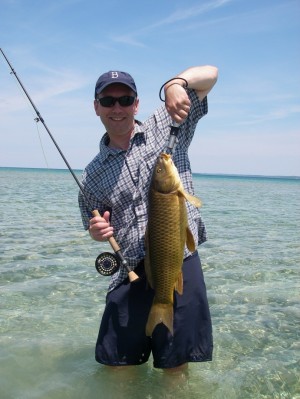 Over the years this has become one of the most inquired about species and fishery that I guide for and why not? It's intriguing to many that people actually pursue with flies a species once considered a trash fish. And they travel a great distance to do so. These fish offer the angler the closest thing to a saltwater fishing experience right here in Grand Traverse Bay. Carp are often easy to see, but getting a fly to them and getting them to eat it is what makes this species challenging and rewarding when success is accomplished.
Read more about Carp / Golden Bones fishing »
Time of Year: The month of June is best, with good fishing in mid-May through mid-July.
Skill Level: Moderate. The successful carp angler needs to be able to cast accurately to 35 feet often in wind.
Notes: Smallmouth bass often are among the carp and can exceed 5 pounds!
Streamer Fishing for Big Trout
The concept isn't new, however many customers haven't tried it yet. The idea behind casting big streamer patterns is to trigger the territorial response of the alpha fish and/or offer them a large meal at once. Because the flies range from 3 to 7 inches in length, the fish usually playing along are bigger, too — "qualifying the buyer" so to speak. The number of fish caught tend to be fewer than other methods, as we drift a few miles of river, but size typically makes up for it. Besides, there is something about watching 20-plus inches of brown trout pounce on your fly that makes this all worth while.
Time of Year: Best months include May, June, September and October, but can be done effectively from April through November. It's a great alternative anytime you don't see trout.
Skill Level: Moderate. A decent understanding of loading the rod and casting is necessary as is stripping line.
Notes: Like anything new, there is a learning curve, and the only way to learn is to learn along the way.

Swing Flies for Steelhead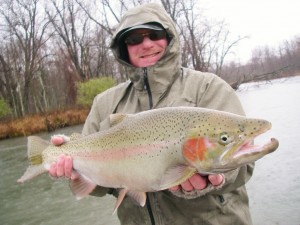 For years we were told in Michigan that we need to get to the bottom with lead and nymphs to catch fish, and that our rivers aren't like those of the Northwest where swinging flies is the norm. Things change. Thanks to a handful of guides here in Michigan who refused the status quo and persevered, fishing two-handed rods for steelhead has become a viable method to catch fish in the Great Lakes state. While it isn't as effective as nymphing techniques, swinging wet and spey flies and streamer patterns is simply fun. When I started doing it back in the late 90s I dubbed it as being a "Born Again Fly Fisher" — the intrigue, uncertainty, novelty and not knowing whether that long swing was going to be "the one" makes fly fishing seem new again, and a lot of fun.
Time of Year: Late April through early May, October through November
Skill Level: Moderate
Notes: The fall fishery is best as water temperatures are usually conducive to a swung fly and the fish aren't preoccupied with spawning. In spring the post-spawn or drop-back fishing is best as water temps are ideal, the fish are done spawning and they're looking to eat before going back to the lake.
Bass Fishing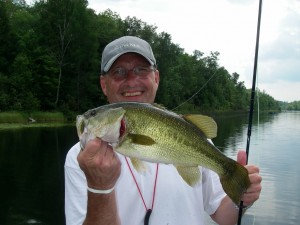 Fishing top-water flies to largemouth bass can be some of the best fishing of the summer. As the water has warmed and the weed beds have grown, bass tend to congregate around them looking for easy meals; flies that look like frogs or others that "CHUG" across the surface commanding attention often get the "bucket mouth" to eat and that in and of itself is the best part. When the surface bite isn't on, go subsurface with baitfish streamer patterns.
Time of Year: Late June through Early September
Skill Level: Moderate
Notes: Like many of the techniques mentioned in this article, a decent command of the cast is required to get the big wind resistant flies to where they need to be.
Smallmouth Bass in the River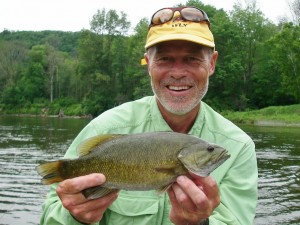 Once the middle of summer is here, the fish know it too. With lower sections of the Manistee warming up, the smallmouth migrate and become an active target. Smallies are known for their fight, and the river fish are no different than their lake-living brethren. The techniques are varied but include streamers and top water flies. Chugging a popper or swimming a diver just below the surface to have the water erupt is a great visual. The streamer fishing is similar to the streamer fishing described above.
Time of Year: July and August
Skill Level: Moderate
Notes: Casting a wind-resistant popper or a sink-tip with 4 inches of rabbit isn't for a beginner, but someone who has a good understanding of the cast can typically pick it up quickly. And the more you do something, the better angler you become.
Streamer Fish for Salmon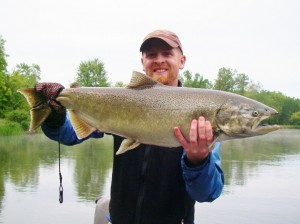 This is similar to fishing big streamers for trout, except when caught we measure the fish in pounds, not inches. Oh yeah, you better hold on tight to the rod, as the jolt can be just that. Casting large streamers to fish that have recently moved into the lower sections of rivers is work, but often hard work is paid off. The early, bright King/Chinook Salmon in the river aren't happy — kind of ornery — and this attitude is to our advantage, as their predatory nature is still engaged and willing to eat a fly before they transition to fish with spawning on their minds.
Time of year: Mid-August through Early September
Skill Level: Moderate/Advanced
Notes: Weather conditions are key to this fishing — if conditions aren't right for fish to be in the river, they simply won't be there. However, it can all change with a wind shift and a little rain.
Like just about anything new we try, there is some learning, adjusting, tweaking, etc. involved. Often these new adventures or approaches don't come easy at first, but most likely neither did your first time on the water with the fly rod. If you set out with the intent to learn a new technique with an opportunity to catch fish, you will do well. I pride myself on being able to gauge where your skill level is and teach you a new skill(s) in a linear approach. Casting lessons are always available prior to trips and sometimes are encouraged so you can practice ahead of time to maximize your time on the water. After all, it's a good time on the water with the potential of that photo op that accompanies a new story about a new-found skill.