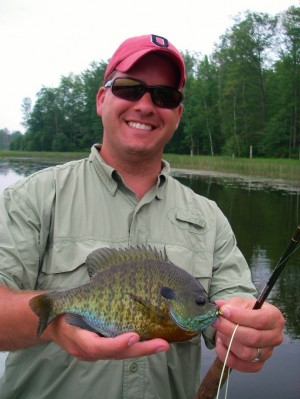 Panfish are simply a lot of fun with a fly rod. Often considered Bluegill, they are just one of the many species in the panfish family, along with pumpkinseeds, crappie, rock bass and others.
What makes these fish so desirable to catch with a fly rod is their population density and eagerness to eat. Another reason this a great species to pursue is the number of lakes in the region that are home to "gills" – there are lots of places to fish close to Traverse City.
Beginner to Veteran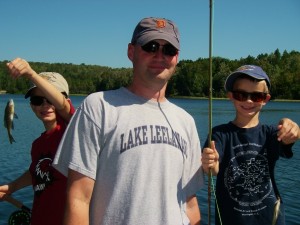 Personally, I think these fish offer anglers the best opportunity to learn how to fly fish – maybe because that's how I got started myself. If you are looking to learn, or want to introduce someone to the sport, panfish are a great choice — they require you to cast, strip and manage line, set the hook and bring fish to hand — all without the fastidious nature that trout sometimes exhibit. There is no moving water to worry about a drag-free drift, or that your fly size is off just a bit which can be a deal-breaker when trout fishing. Panfish are forgiving and simply fun. These fish like to eat, and once hooked are the best fighters pound for pound — which is why accomplished anglers who have fished for years still go after them.
When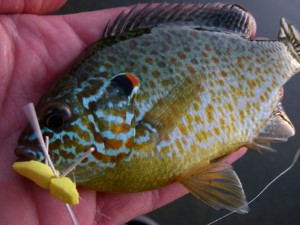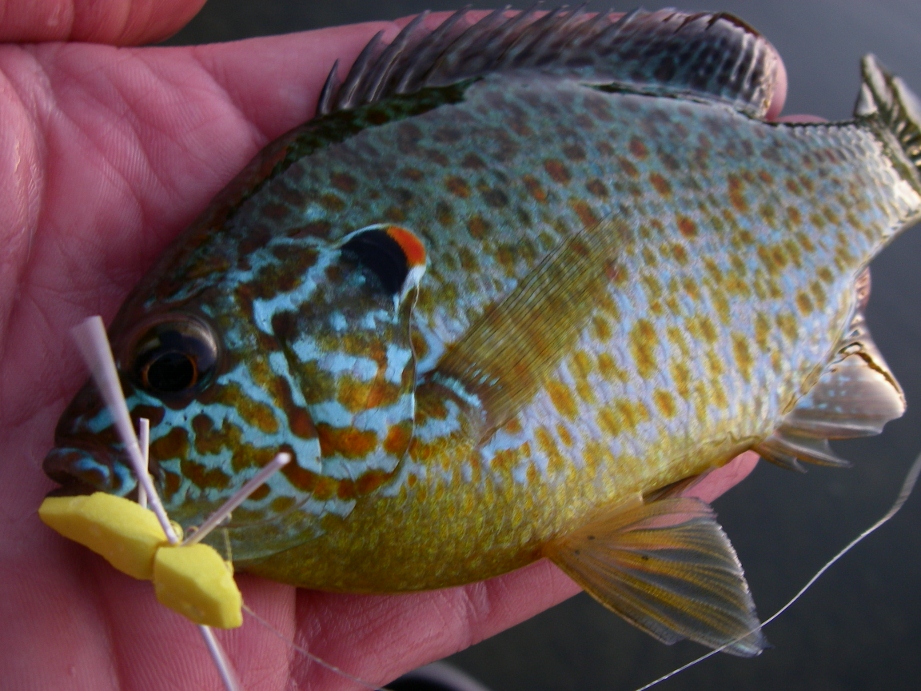 Each May the fish move from the depths into shallow water to spawn and are there into June. Their beds are often easy to locate, but not always. This is when the fish are at some of their most aggressive state of the year and will defend their territory. The smaller, immature fish are all around the spawners and they are eager to eat flies too.
As the season progresses, the fish move into the deeper waters and take refuge in and around structure like weeds, drop offs and fallen in trees and can be targeted through July and into August. Bass almost always share the same water and catching a large or smallmouth bass on a light fly rod is more then a lot of fun.
Spend a half-day in a boat and learn to fly fish or, if you already know how, just catch some of these fun fish on one of our many beautiful lakes and ponds. It's a great way to practice or spend an afternoon on the water.
Bass

Largemouth Bass share a lot of the same water as panfish and offer yet another species to catch in our waters.
Whether by sneaking a slider along the surface, pulling a swimming/diving fly seductively under some lily pads or causing commotion on the surface with an obnoxious popper, fishing for bass puts smiles on anglers as the fish climbs all over it.
Often visual, typically with jumps and always a steady tug – hit the weed beds and drop offs in the warm summer months for some bass fishing on the local lakes and ponds.
Let your inner Jimmy Houston out and do it with a fly rod, Son.