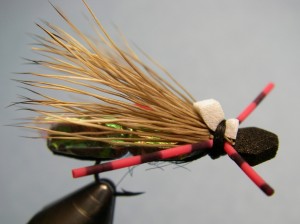 This is my twist/version of the Tar Baby fly pattern which borrows elements from the Mutant Ninja Cicada originated by Emmett Heath – famed guide of the Green River in Utah. Used primarily as a cicada imitation this large terrestrial pattern offers a large profile and bright, kicking rubber legs serving as an attractor when there isn't much on the water's surface to bring fish up.
During warm summers in northern Michigan the loud and often obnoxious buzzing sound coming from trees is that of a Cicada. While the insect doesn't have an abundant population in this region, they are worthy of having in your box as an attractor – if not an imitation of the bug itself.
Floating high because of its foam body and elk hair wing, this fly works well as a indicator fly where a second fly is tied to the bend of the hook – either a nymph or a smaller, hard to see dry fly like a beetle or Trico. Fish it solo like any large terrestrial like a grasshopper – close to the bank, over deeper runs and all water that appears promising. A little twitch or even some skating/skittering often brings fish's attention to it.
Consider tying the same fly using different color pieces of foam…. tan, khaki, chartreuse, or olive as it can suggest grasshoppers and play around with different leg colors. Don't limit yourself to using this fly just for trout – it has taken its fair share of bass, too.
Tar Baby Recipe
Hook:           Dry Fly Hook – Size 10 (Gamakatsu S10)
Thread:         Uni 6/0 – Black
Body:           Black Foam – 1/8″
Underbody:    Ice Dub – Peacock
Underwing:    Pearlescent Sheet
Wing:            Elk Body
Legs:            Grizzly Barred Rubber Legs – Med – Red
Indicator:      White Foam – 1/8″
Tying Instructions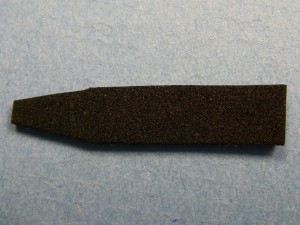 Step 1. Cut body from foam sheet approximately 1/4-inch wide 1-1/2 inch long and make a tapper on one end.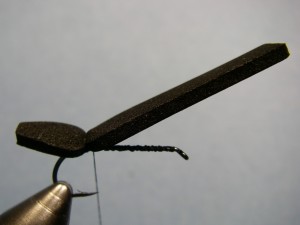 Step 2. Place hook in Vise and wrap base layer from behind eye to above hook barb. This is where
you will tie the foam down with the tapered end extending beyond the hook bend.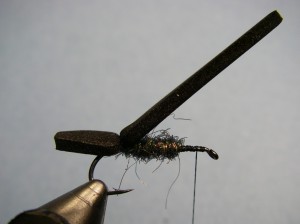 Step 3. Once tied down, dub the under body to provide some iridescence to the body.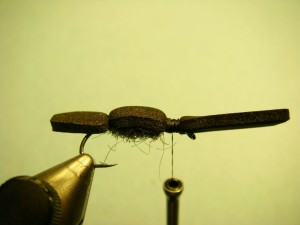 Step 4. Tie the foam down again behind the hook eye with the additional foam extending forward.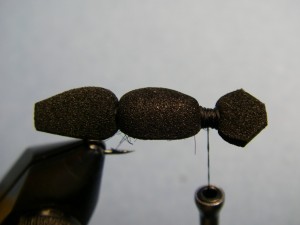 Step 5. Trim the extending foam the length of the hook shank and then cut the corners off.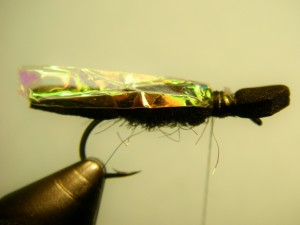 Step 6. Tie in a piece of pearlescent sheet on top of the foam that just extends beyond the body.
Too large of an under wing will tend to twist/helicopter thin tippets when casting.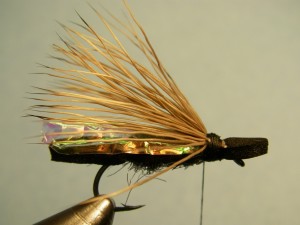 Step 7. Clean and even/stack a sparse amount of elk hair and tie in over the
under body with the tips extending the same length as the under wing.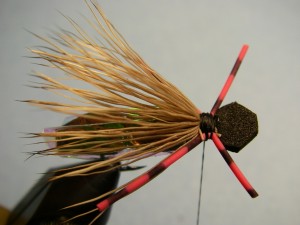 Step 8. Tie the rubber legs in on each side of the body forming the fish loving "X" and trim so the front legs are
shorter than the back legs. If the rear legs foul in the bend of the hook when fishing, trim streamside.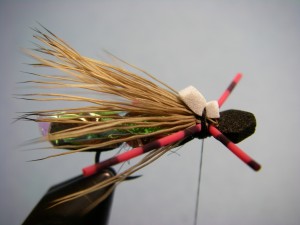 Step 9. Use a piece of white foam which should be slightly narrower than the body and tie
above the elk hair to reinforce the elk hair and keep it extending backwards
without excessive flaring. Whip finish and apply two coats of head cement.
To address any potential misunderstandings of the name Tar Baby, Wikipedia defines it as:
"The Tar-Baby is a doll made of tar and turpentine used to entrap Br'er Rabbit in the second of the Uncle Remus stories. The more that Br'er Rabbit fights the Tar-Baby, the more entangled he becomes. In modern usage according to Random House, "tar baby" refers to any "sticky situation" that is only aggravated by additional contact."