Regardless of whether you're a beginner wanting to learn how to fly fish, an angler wanting to improve, or a seasoned veteran wanting to spend an enjoyable day on the water — your needs and interests can be accommodated.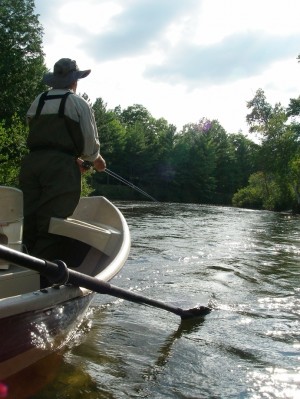 My approach on guiding is to determine your needs and expectations then develop a game plan to best accommodate. I'm lucky to spend a lot of time on the water, but I realize the customer probably doesn't — and besides, this is your guide trip. Discussing your interests and desires is welcome to help make it an enjoyable day. It's assumed that you want to catch fish, so that's understood.
Drawing from both my experience as an angler and fly fishing guide, I work hard to make the day a success for you. As an FFF Certified Casting Instructor I can help make you a better caster and angler while you join me for some time on local waters pursuing  the various species available. Let's Fish.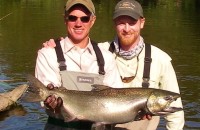 Full-Day Float Trip
Spend a day on the water fishing from a drift boat or jet-sled on the Manistee, Betsie or Boardman River. Enjoy a streamside prepared lunch/dinner complete with beverages and snacks included with each full day. Full-day trips average 8 hours of fishing. $395 for one or two people.

Half-Day Float Trip
Half-day trips are perfect for the person on a limited schedule, beginners, or people who get enough fishing in 4 to 5 hours. Beverages and snacks are included with each half-day trip. $275 for one or two people.
Carp on the Flats
Spend 4-5 hours wading the flats of Grand Traverse Bay and Lake Michigan in pursuit of carp with opportunities to catch the trophy smallmouth bass that share the same water. $275 one or two people.       More information on Carp Fishing »
All Levels of Experience
It doesn't matter what your experience level is, who you are or your age — we aim to be your guide not only on your next fishing trip but in the years ahead. The majority of our clients are repeat customers and we want to demonstrate why. Ego-free guiding with the focus on you — beginners to veterans, kids, women and seniors. Welcome to Current Works.

Group Trips
Larger parties can be accommodated with additional seasoned and experienced guides. Whether it's a family of four spending some time on the water, a corporate retreat or conference in the area, bachelor or bachelorette party, or if you are looking to entertain that special customer — let us get your group on the water.

What's Included in a Trip
All tackle is provided at no additional charge. There may be an additional charge for flies used if the amount exceeds normal usage. Instruction, travel to the river and professionalism are included. Full meals, snacks and beverages are included on full-day trips, with snacks and beverages provided on half-day trips.
What You Need
Upon booking a trip you will be provided with a Trip Confirmation which will help you to prepare for your fishing trips(s) and answer any questions you might have. Here is just a partial list of what you will want to bring:
Fishing License      •      Rain Gear      •       Waders (optional)      •       Polarized Sunglasses
— To Preserve Our Fisheries, All Trips Are Catch & Release —
Ted Kraimer Current Works Guide Service 231.883.8156 (8:00 am – 9:00 pm est) Ted@Current-Works.com