Want to reserve your place in the boat? Call or e-mail today to secure your time on the water fly fishing for one of our many species.
Ted Kraimer
Current Works Guide Service
231.883.8156
(8:00 am – 9:00 pm est)
Ted@Current-Works.com
During the fishing season I am often on the water when you call or when your e-mail is sent.
Phone calls are returned as soon as I am off the water (should that be an acceptable time to call),
or the following morning. E-mails are typically answered well within 8 hours.
To learn additional information about guide trips, our philosophy,
fish species, and their seasons please explore the website.
Full-Day Trip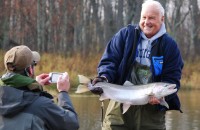 Average 8 hours. Lunch/dinner, snacks and beverages included.
$395 for one or two people.
Half-Day Trip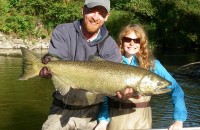 Average 4-5 hours. Beverages and snacks included.  
$275 for one or two people.
Included in all trips
Tackle is provided at no additional charge. There may be an additional charge for flies used if the amount exceeds normal usage. Instruction, travel to the river and professionalism are included.
What you need
Rain Gear
Waders (optional)
Polarized Sunglasses
A $150 deposit is required for each day booked • Cancellations must be made at least 30 days prior to your date(s) or deposit is forfeited; some exceptions may apply in your favor • Balance of services rendered are due upon completion of your trip. Deposit or payment balance can be in the form of cash, check or via PayPal.
Contact us for available dates during the period or species you would like to fish.
Confirmed date(s) will be held upon receipt of deposit.


To learn more about PayPal, click here.