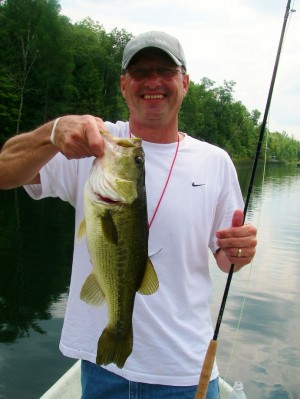 By the time July and August have arrived in northern Michigan, fly anglers have had months to fish for trout and other cold-water species. As the weather and water temperatures increase, it's a great time to fly fish for largemouth bass in the local lakes.
While the Traverse City area does not have the huge bass found in the managed ponds of southern states, or as you might see on a Saturday morning bass fishing TV show, we do have good population  — some over the 5-pound mark.
Being a versatile angler (fishing slowly retrieved nymphs, streamers on a sink-tip or casting bulky poppers) will not increase the odds of finding what the fish are in the mood for, but it will make you a better fly angler regardless of the species you pursue in the future — it's a great way to improve while having fun.

Structure
Structure is a great place to start looking for bass, as it is for just about any species of fish. The increased weed growth, swim platforms and docks found on most lake edges are a great place to start.
Large mats of lily pads and other aquatic weeds are a good place to focus.  When the weeds are close or adjacent to drop-offs, another form of structure, it's that much more likely you will find the bigger, more predatory bass. This cover not only provides safety from larger predators (osprey, eagles, loons, pike, anglers), it more importantly serves as a place where they can eat smaller fish, insects and other food sources.  In low light, look for fish to become a little more bold, moving into shallower water and flats to eat minnow and other baitfish.
Flies for Largemouth Bass
Some like it on top, others like it down low. Both the bass and the bass angler have preferences, and it's up to the angler to either figure out what the fish are in the mood for or how they, as anglers, want to fish that particular day. Personally, there is nothing better than chugging a popper near lily pads only to have it inhaled by a bass.
But like most fishing, bass may want a different presentation, and the versatile angler equipped with various fly styles will be able to adapt to the fish's preference. Sliders and diving flies fished on either a floating line or clear sink-tip are a nice mix as long, slow strips swims the fly from the surface, down and back up covering more of the water column.
Classic streamers like weighted wooly buggers slowly retrieved do a great job of imitating leeches, and have taken their fair share of fish. So have larger, streamer patterns that look like natural baitfish stripped along the weed bed and/or drop off.
The big popper with rubber legs on the surface, Sneaky Pete's, frogs, crawfish, small poppers, dragon and damsel flies (both nymph and adult) an assortment of streamers all deserve a place in your fly box.
Equipment
The versatile angler will have both a floating and a sink-tip line to meet the demands of the fish. Specialty tapers for bass exist, but I have found some other lines that I feel perform better: Scientific Angler's Magnum and Titan tapers and Rio's Outbound fly lines are a joy to cast.
Reels don't necessarily need to have the most advanced drag system, as the bass aren't like a steelhead and we are not protecting light tippets  — reels simply serve as line holders.
Leaders are more important than most anglers recognize — the tapper and stiffness of a leader trying to carry and turn over a large, wind-resistant fly is crucial; while we aren't catching 12-pound bass, we often need that much stiffness and mass to cast the fly well and to muscle fish in and out of weed beds. Look for tapered leaders formulated for bass or even saltwater species.
Rod size varies, but most will find  6- and 7-weight rods, 9-feet in length, are ideal. Some anglers choose to have some fun with the smaller rods for a "ultra-light" approach, where the serious big-fly and heavy-cover angler might opt for the power and efficiency of an 8-weight. Manufacturers like Sage, Redington and Scott have developed rods specifically for warm-water fishing with unique lengths and tapers you might consider if you really get into this type of fishing. Just remember, the best rod is the rod you cast best.
Timing
Some times are better to fish for bass than others, but anytime you can get out and fish is a good time. One of the advantages to fishing largemouth is that they are typically accessible and eager to eat at all times of the day.
Some days the best surface fishing is twilight — the time when the sun has gone over the tree line. Other days, after a cool front has moved through, the sun brings them out and gets them active. Often early mornings are good, too, for the same reason as twilight. During the summer, the daytime temperature forecast is usually what helps me and my customers  decide when is best to fish — after all — it's about getting on the water to fish, having some fun and catching.
Seasonally the bass move from the deep water into shallower, more "fly-angler-friendly" depths in May and can be caught through September.  To me, anytime you can catch fish is a good time, but when the trout fishing has slowed or you are looking to mix it up, give bass on a fly rod a chance.
Spending my formative angling years using spinning rod chasing bass, I see July and August as time to reconnect with those early fishing memories of northern Michigan lakes using a fly rod – try it yourself if you haven't yet.