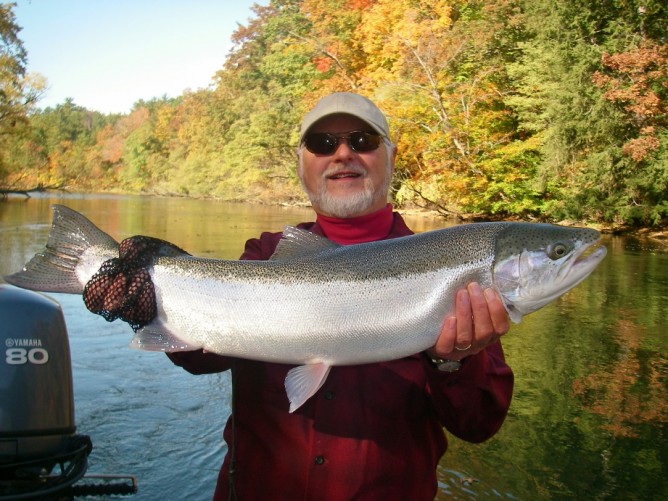 Steelhead anglers in Michigan and the Great Lakes have a lot of choices when looking to stock their fly boxes. There's no shortage of effective flies, but choosing a select few can almost be confusing or even intimidating. This list of top 5 steelhead flies includes patterns that have produced for me and my clients over the years – both in spring and fall.
Those who have fished with me know that my fly boxes include more patterns than these. The purpose of this list is to help you identify and start to build a collection that will fish well and become the favorite, producing staples in your fly box.
Hex Nymph
Hexagenia mayfly nymphs or "wigglers" are significant, since many of our rivers with steelhead also have this silt burrowing mayfly. One of the largest mayflies, the hex, looks buggy. Many of the patterns used to represent them also share looks similar to other important food sources, like sand sculpins and sucker minnows.  No steelhead box should be without some.
Commercially Tied Patterns: Bears Hex Nymph, Schultzy's Rabbit Hexum, Ted's Edible Hex, Fox's Shuck Hex Nymph
Sizes: #6 – 10
Caddis
Lift just about any rock or log in the river, and you will find caddis cases clinging to the cover. This grub looking pupa ranges in size and color, but it seems that green and chartreuse are the most effective for Michigan steelhead. Most patterns are tied larger and brighter  than real life and "suggest" caddis, but serve more as an attractor – especially when fishing stained water. Small, natural looking patterns in green, olive and cream are worthy of a place in your box when fishing low, clear water often associated with winter steelheading.
Commercially Tied Patterns: Disco Caddis, Boogie Woogie Caddis,  PM Caddis, Flashy Brassie Grub
Sizes: #6 – 12
Click here to learn how to tie Caddis patterns.
Steelhead Bugger
The "Crescent wrench" of all fly boxes for most species is the wooly bugger — because it works. Tied with a touch of flash and with the natural, buggy appearance of peacock, the steelhead bugger (a.k.a. "The Steelie Bugger") is a slight variation from the standard wooly bugger. Both patterns suggest a leech, a stone fly and who knows what else – it's the Steelhead Bugger that seems to be even better. Make sure you have some in your fly box.
Commercially Tied Pattern: Umpqua's Steelhead Bugger
Sizes: #6
Click here to learn how to tie a variation of this pattern.

Egg Pattern
Tandem fly rigs are the norm when targeting steelhead. More often than not, one of the flies is an egg pattern. Serving as a realistic egg imitation or when large and bright – an attractor, no veteran steelhead fly angler will deny the effectiveness of an egg pattern. To learn more about fishing eggs for steelhead, read, Egg Patterns.
Commercially Tied Patterns:
Glo Bugs (Oregon Cheese, Golden, Chartreuse)
Crystal Eggs (Peach, Chartreuse)
Nuke Egg (Oregon Cheese over Steelhead Orange,   Chartreuse over Flame, Egg over Steelhead Orange.
Rag Eggs (Clown, Apricot/Dark Roe , Egg/Salmon, Oregon Cheese/Burnt Orange)
Sizes: #6-10
Stonefly
The first insect of the year to hatch in significant numbers is the small black stonefly. Tie one on when you see them crawling on snow banks or fluttering on the surface when the sun is out and water temps increase slightly, tie one on. Our waters have a variety of stoneflies ranging from the small stones mentioned above to some in excess of two-inches long. My favorites are black and cover the size range. As water temps cool in the fall and leaves start to decompose underwater, stoneflies get active making them a good choice at all times of the year. Oh, and when the bite is tough, sometimes the small stone pattern is enough to trick the fish into eating a small snack even if they aren't actively hatching.
Commercially Tied Patterns: Mercer's Biot Epoxy Stone – Dark, Trout Retriever, Ted's Early Black Stone, 20 Incher
Sizes #6-12

Honorable Mention: Leech
Often the spring run can coincide with winter's thaw and/or spring showers leading to high, dirty water conditions where your small realistic nymphs can go unnoticed.  Tied with rabbit strips or marabou, the black leech's large profile, undulating motion and sometimes combined with some sparkle or flash can come up big, deserving a place in your fly collection.  High and dirty water in the fall isn't much of a concern to fall steelhead anglers here in Michigan, but those looking to swing flies on sink-tips should keep a leech handy.
Commercially Tied Patterns: String Leech, Silvey's Tail Light, Miles Davis, Larimer's Reverse Marabou
Sizes: Go big