The hex hatch that occurs every year from Mid-June and sometimes extending into Mid-July is no secret to anyone who has fished and/or read about Northern Michigan's trout fishing. Just as the western rivers are known for the salmonfly or stonefly hatch, the hex is our claim to angling and fly fishing notoriety.
The large, nocturnal hatching hexagenia limbata mayflies bring out some of the largest and most-weary fish, but it also brings on big expectations, crowded riverbanks, and dark fishing condition. Do I dare suggest abandoning hex fishing? Absolutely not – just consider the great fishing opportunities just prior to the hex hatch for the year's best dry fly fishing.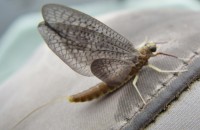 The Good News
In early June, anglers can expect to find a smorgasbord of bugs on the water. Mayflies, stoneflies and caddis – often at the same time – can be floating down the river. As they often do, trout can key in on not only a particular insect, but also life-stage providing anglers with some great dry-fly challenges.
Here is a breakdown of what mayflies you can expect to find on the water in the weeks prior to the hex emergence:
Sulphurs
Latin: Ephemerella subvaria, rotunda, invaria, & dorthea
Common Name: Sulphurs, Light Hendricksons, Pale Evening Dun
Hook Size: #14-16
The Sulphur hatch encompasses a number of similar looking bugs all rolled up into one, long lasting hatch. Starting as early as mid-May, look for the bugs to continue well into the first few weeks of June.
The prolific nature of these bugs is partly due to a wide range of conditions that the bugs call home. From slow moving water to the fastest of riffles, the nymphs crawl around until conditions are right to emerge. Typically in the last two-three hours of evening before dark, these easy to identify bugs will start to populate the water's surface before flying off to mature in to adults. Duns vary in color; they can be: yellow, creamy yellow, orange, yellow with hints of olive, and light green. They dun's wings are a true dun (grey) color and all stages of this bug have three tails.
Sulphur spinners love riffles and can range in color from "rusty spinners"/ maroon to a mix of brown and yellow while all Sulphurs spinners sport clear wings. They can build in numbers a few hours before dark and fall to the water even past dark making for some of the most challenging fishing – small sips from large fish in low light. Be there.
Tip: Emergers are deadly for Sulphurs since they typically leave the water's surface immediately after shucking its nymphal exoskeleton. Spinners at dark can bring up great fish. Although difficult to see, look for them in fading seams. Crouch down low in the water to help locate those delicate sippers.
Mahogany Dun
Latin: Paraleptophlebia Adoptiva
Common Name: Mahogany Dun, Small Slate Wing Dun
Hook Size: #16
Found in mixed water: slow, moderate and quick riffles, these bugs are difficult to see on the broken surface of riffles, so be sure to look in the smoother water for not only identification, but also feeding fish. With three tails, the duns have grayish wings and a reddish brown color (hence the name Mahogany) whereas the duns have a slightly darker body and a clear wing.
The small size of the Mahogany Dun can bring up some of the larger fish to feed. What makes this bug a little less known to most anglers is that fish gently sip on them and hearing them is unlikely – you need to look astutely for risers. Once you see fish in their teens and into twenty inches feeding on these you might not be a believer that such a small bug is of significance. Look closely at tail outs and glassy flats for the smallest ring of the rise for fish feeding. Because they often hatch the last couple of hours before dark, the fish can be very selective to your presentation. One blown cast or some drag on the fly that resembles a mayfly on water skis crossing the wake and its all over.
Tip: The Mahogany Dun is one of those flies that the fish just like to key on some days even though there are other bugs to choose from. Do these bugs sit in the water differently, dead-drift longer or simply taste better? It doesn't matter; learn to recognize when this bug is on the water and have a skeleton key to some of the most selective trout.
Black Quills
Latin: Leptophlebia cupida
Common Name: Borchers Drake
Hook Size: #12-14
Black Quills are not one of our most prolific bugs populating our local rivers, but they are worth making note of. Starting in the first part of May, anglers will find these bugs on and above the water.
This bug consistently shows itself in daylight and because of its size it is significant to trout and trout anglers. Make some room in your fly box for some Borcher's Drake Parachute imitations and don't be afraid to fish them blindly as you cover water when no fish are rising.
Look for this three tailed bug to have a very dark colored body and a wing with black splotches. Spinners are clear winged and prefer riffles. The tails are noticeable on these flies as they are longer than most mayfly's tails – approximately 2 times rather than 1 ½ times the body length.
Tip: The Borcher's Drake pattern is a great imitation for Black Quills. Borchers also do a good job of suggesting other patterns that are dark in color when in spinner form – no fly box in Michigan should be without a collection of these flies in sizes 12-16.
Learn how to tie the Borcher's Drake Parachute fly pattern »
Bat Flies
Latin: Baetisca
Common Name: Bat Fly, Armored Mayfly
Hook Size: # 16-18
Not much is known about this bug, but you should know this: if you fish the Upper Manistee, The Boardman or AuSable Rivers in June, have some. Have you ever experienced fish rising but not being able to determine what it was they were eating? Chances are it was the Bat Fly the fish were keyed in on.
Named for its shape, the Bat Fly has practically no abdomen – a lot like a bat itself; lots of wing and a robust thorax to support them. This bug has three tails with the middle one shorter than the others. Its body color is a golden brown to olive color and is slightly mottled as is the wing of the dun. Spinner's wings are clear. The spinner is the pattern of most importance to anglers and they often are on the water for weeks becoming an important source of food for fish.
Fished to rising fish in slow to moderate flats in fading light is the best way to describe situations you are most-likely to experience. While I nor clients have been lucky enough to witness fish over twenty inches feeding on these bugs, I will say it is a staple diet of fish up to 18 inches in length.
Tip: Because this isn't a well-known mayfly, your fishing buddy probably will be unprepared. Make some money on the water by selling him some extra flies or just make him green with envy at the success your small, "body-less" fly is bringing you.
Brown Drakes
Latin: Ephemera Simulans
Common Name: Brown Drakes, Roberts Yellow Drake
Hook Size: #10
The second largest mayfly we experience next to the hex – the Brown Drake is an emergence you don't want to miss. When they come off, they typically do so heavily and the fish are taking clear advantage of the low-light gravy train. Not a long hatch – typically less than an hour just before dark and sometimes into dark – and for only a few days, trying to nail down and be on the water when they come off is well worth it.
The three tailed nymphs live in both silt in sand, but can be found in mixed sand and gravel areas. The emergers take a while to make the transition into an adult and therefore it's a good stage to represent with a fly. Duns have a brown body with yellow/cream splotches and medium tan wings with darker splotches. Spinners with their clear wings with dark splotches usually return to the water a few days after emergence to mate over riffle areas where they become easy prey for trout. Because of their size, fishing a brown drake nymph during its hatch window can be effective – down and across with rising/jigging of the rod tip. The same holds true with Isonycias (see below).
Tip: Neally's Brown Drake Pattern is simply an awesome imitation for this bug. Not only do the fish like it, but in low light, you will too!
Isonychias
Latin: Isonychia Bicolor & Isonychia salderi
Common Name: Slate Wing Dun, Iso, White Glove Howdy, Maroon Duns
Hook Size: 12-14
Found on our rivers in two varieties – Iso's are one of the most prolific bugs that rivers like the Manistee are enriched with. This fly loves riffles and according to entomology text books, they emerge into an adult after they crawl to the bank. I am confident in telling you that these bugs do float down the river and make the transition from nymph to adult. The fish take notice also. Their size helps make them an important food source and they are known to sometimes emerge in small numbers throughout the day.
Isonychia duns have two legs and can vary in color – from a light olive/gray to medium brown with hints of red (think large Mahogany); their wings are a milky dun color. Spinners often collect in the evening above riffles or any slight break in the water's surface. Their bodies are much thinner now and are a dark maroon and clear wing fall to the water. These bugs are easy to identify as the front two legs are white/cream in color – pick one off the water and look.
Tip: Realistic looking patterns fished throughout the day – blindly (boon-dogging) can produce some surprising results. While streamer fishing is preferred by many during the light of day, it's not for everyone. If this is the case, tie on a dun or spinner and work seams on top and be sure to set the hook slowly when you see a lot of trout come up and eat.
Learn how to tie the Tilt-Shoot Isonychia fly pattern »
Gray Drakes
Latin: Siphlonurus
Common Name: Gray Drake
Size: 10-12
Grey Drakes are a bug that build in prolific numbers above any type of broken water, but are rarely seen on the water as adults. These flies are Gray in color as their name suggests and often hit the water hard giving the fish a predominate choice in food. Like most spinners, look for them to collect in swarms up to two hours prior nightfall.
The spinners have two tails and are easily identified by a white ring around the bottom of their eye. Be ready to fish after dark as the spinners can continue to fall if the air temperatures stay warm.
Tip: A tandem rig of two flies works great – my favorite combo is a #12 Parachute Adams and a Gray Drake Spinner. Use the leading parachute to help you track the two flies and use it as an indicator since rises in broken water can be difficult to detect.
Presentation and Equipment
Having the right fly in your box is only part of the equation that is going to make the night on the water memorable. Remember: presentation trumps fly selection.
If you have the right fly but don't effectively present it to the fish, you are likely to miss out on hooking fish. A little practice during the day to make sure your flies and leaders are turning over, that your mends are proactive and that your casting accuracy is dialed in can pay off later when you might get your chance at rising fish.
Even though all of the flies listed vary in size, your favorite rods in 4 & 5 weight will work just fine. Length is a matter of preference – just make sure you have a rod that will assist you with good line control once it's on the water. Leaders from 4x-6x are fine and should be at least 9ft in length. With the great mayfly hatches of June come other bugs; the mosquitoes and no-see-ums can be heavy so make sure you have your favorite bug repellent stashed in your vest. Note: Repellent containing DEET will damage leaders, line and other equipment so be careful applying it and be sure to keep it off of the insides of your hands. Even though it's not the hex hatch, you will still want a headlamp because many of these bugs will still feed fish when it is difficult to see. Having a light makes it not only easy to tie your fly on, but also getting back to your car.
Weather or Not
All rivers have a different hatch calendar – that is the exact times that particular bugs emerge. Mostly dependent on water temperatures, "hatch-windows" can carry-on for weeks if an angler is looking to move to different sections of a river chasing bugs or even change which river to fish.
The weather, it seems, the past number of years has been more unstable and fairly inconsistent day to day through the month of June. Cooler evenings, hotter days, stretches of cool days and/or a mix of all of these has had an effect on what bugs hatch and when. The good news is, when we have the diversity of various bugs emerging at overlapping periods there are several possibilities to catch fish on. The end of May and the month of June is a great time of the year to experience some of the best dry fly fishing this State has to offer – get out there before the hex, the crowds and the dark.
Author's Note: Most of the fly patterns used in this article are commercially tied and available locally at The Northern Angler, here in Traverse City, Michigan.